LOVING
This new journal my aunt got me for Christmas—and, yes, I am that behind on sharing my favorite gifts on Instagram, which is where all good gifts go for validation. The question, of course, is whether I can bring myself to mess it all up by writing on its pages.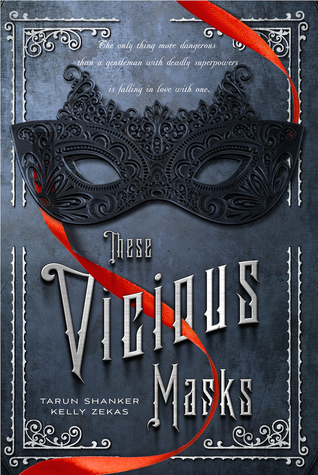 READING
I devoured
These Vicious Masks
, a YA historical that's pitched as Jane Austen meets X-Men, which is appropriate but not nearly the best part. That would be Evelyn, who is full of wit and sarcasm and whose quips had me laughing throughout the whole thing. Bonus: While there are two men interested in Evelyn, her major focus is on finding her missing sister, so while
I
was swooning, she was not. Somehow, this made the romance even more fun. (I plan to review this in more detail one of these days.) Next up:
The Love That Split the World
, which sounds just as amazing as it looks.
WATCHING
I'm super exciting to start Hulu's 11.22.63, a time travel drama starring James Franco that's based off the Stephen King novel. But what really sold me was J.J. Abram's involvement because I'm a sucker for anything he creates.
I stumbled upon Daughter's "Youth" in my endless Spotify list, something I'd added before I wrote Gray Wolf Island, and realized it was perfect for the story. I've been listening to it on repeat ever since.
THINKING ABOUT
Beginnings. And how much I hate them. This is about writing, but it might as well be a metaphor for my life. I'm always a nervous wreck when starting something new.
Multiply that by a thousand when it comes to writing a book. There's something about that first chapter that makes my insides seize and my brain go mushy. So there you have it: Beginnings hit me like food poisoning.
ANTICIPATING
Is Tuesday too soon to look toward the weekend? No, I really don't think it is. And I'm antsy to spend long stretches of Saturday and Sunday working on my new story. You have permission to clobber me over the head if I'm still struggling with Chapter 1 by then.
WISHING
I had married a massage therapist, or at least a guy who could feel the difference between tight muscles and shoulder blades. (The Man has other fine qualities, I assure you.) Anyone else feel like they've gone 12 rounds with a ninja after writing for long stretches of time?
MAKING ME HAPPY
Rebecca and Rebekah. How's this for happy-making:
Rebekah Faubion
sold her YA fantasy,
Of Blood and Promises
, which will release in Fall 2016. I was so very lucky to get a chance to read this story, and trust me when I tell you to add it to your TBR list right now. But be warned: Rebekah really knows how to punch you in the feels.
Rebecca Barrow
sold her YA contemporary,
You Don't Know Me, But I Know You
, releasing in 2017 release. I haven't read this one, but it sounds ah-mazing. Read the blurb on
Goodreads
.
Congrats, ladies!
What's new with you?