I've been slacking on my book reviews. I do have a reason, though: I've been lazy.
(I said nothing about that reason being a particularly good one.)
But I want to be better, like those on-the-ball women who have kids and jobs and still manage to polish their nails before Instagramming pics of their coffee mugs.
So here's what I've been reading—and you should be, too: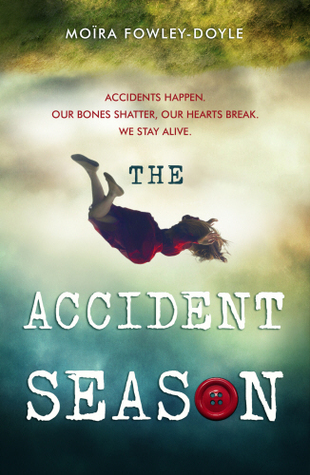 The accident season has been part of seventeen-year-old Cara's life for as long as she can remember. Towards the end of October, foreshadowed by the deaths of many relatives before them, Cara's family becomes inexplicably accident-prone. They banish knives to locked drawers, cover sharp table edges with padding, switch off electrical items - but injuries follow wherever they go, and the accident season becomes an ever-growing obsession and fear.
But why are they so cursed? And how can they break free?
I held off on reading
The Accident Season
for a while because I was a loser who judged the book by the cover, and the cover said horror (who knows where I got that idea) and I wasn't in the mood. But I read a review that made me insta-buy this book.
It's the mystery that first got me reading—why does the accident season happen? Can they ever overcome it? But Fowley-Doyle's prose is what really sucked me in. It's beautiful and atmospheric. There's a bit of magic to the story, and it's not always clear what's real and what's not. You won't get all the answers, but for me that was okay. This book is meant to be experienced and the writing savored.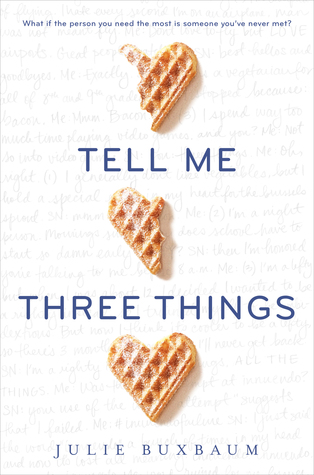 Everything about Jessie is wrong. At least, that's what it feels like during her first week of junior year at her new ultra-intimidating prep school in Los Angeles. Just when she's thinking about hightailing it back to Chicago, she gets an email from a person calling themselves Somebody/Nobody (SN for short), offering to help her navigate the wilds of Wood Valley High School. Is it an elaborate hoax? Or can she rely on SN for some much-needed help?
It's been barely two years since her mother's death, and because her father eloped with a woman he met online, Jessie has been forced to move across the country to live with her stepmonster and her pretentious teenage son.
In a leap of faith—or an act of complete desperation—Jessie begins to rely on SN, and SN quickly becomes her lifeline and closest ally. Jessie can't help wanting to meet SN in person. But are some mysteries better left unsolved?
I'll admit I was drawn to this book out of hunger. But waffles! And then when I heard Simon vs. the Homo Sapiens Agenda comparisons, well, I was sold.
Like
Simon,
Tell Me Three Things
has an email romance between the main character and a mystery admirer. I guessed the identity of the mystery guy (called Somebody Nobody), immediately, but that's okay. The book is more about Jessie coming to terms with her new life, making friends—and, yes, guessing who Somebody Nobody is.
The romance is great, but what really makes the story is Jessie growing into her new life. That, and the great cast of characters—especially Jessie's new step-brother and Somebody Nobody.
Smart. Responsible. That's seventeen-year-old Breanna's role in her large family, and heaven forbid she put a toe out of line. Until one night of shockingly un-Breanna-like behavior puts her into a vicious cyber-bully's line of fire—and brings fellow senior Thomas "Razor" Turner into her life.
Razor lives for the Reign of Terror motorcycle club, and good girls like Breanna just don't belong. But when he learns she's being blackmailed over a compromising picture of the two of them—a picture that turns one unexpected and beautiful moment into ugliness—he knows it's time to step outside the rules.
And so they make a pact: he'll help her track down her blackmailer, and in return she'll help him seek answers to the mystery that's haunted him—one that not even his club brothers have been willing to discuss. But the more time they spend together, the more their feelings grow. And suddenly they're both walking the edge of discovering who they really are, what they want, and where they're going from here.
I'm such a sucker for Katie McGarry books. If they're somewhat predictable—two characters with Big Issues fall in love and there are Major Complications—it's in the best way possible. I know what I'm going to get, and it's going to be good.
Here, we have a boy raised in a motocycle club just trying to get through each day and a girl whose family either ignores her or treats her as a surrogate mother for her many brothers and sisters. My heart broke for her, but it was Razor who really tugged my heartstrings. He tries so hard to be good, to do the right thing—man can McGarry write a bad boy who's not really so bad.
Of course, it wouldn't be a Katie McGarry book without romance, and I was totally on board with this one. It's at times sweet, at times steamy, and truly full of heart.
What have you read (and loved) recently?