Listen, I know Currently posts are supposed to go up on Tuesdays but I'm a hard-core rebel and nobody, not even the internet, tells me what to do.*
When you finish rolling your eyes, read on:
The flowers are blooming, the sky's ultra blue, and stepping outside feels like walking into someone's mouth. It's summertime.
For me, that means drive-in movies. I'm lucky to live close enough to two drive-in theaters that I don't even have to build a time machine and rewind to 1955. Though I'm sure I could rock a
c

onical bra
.
Last weekend, The Man and I saw X-Men: Apocalypse at the theater. Days of Future Past is still my favorite, but this one was fun, too. Bonus: James McAvoy's voice.
About a billion books came out on Tuesday and I pretty much want to read all of them. But I'm most excited for My Lady Jane, a not-quite-true tale of Lady Jane Grey.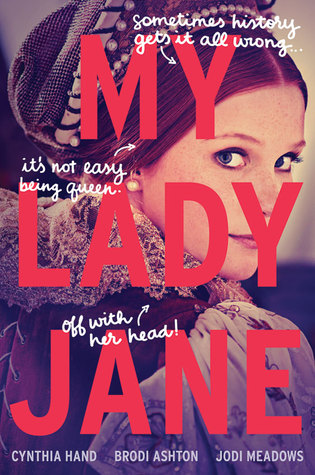 To be honest, the
Princess Bride
mention in the blurb sold me. But on top of that, I'm a big fan of Jodi Meadows'
Orphan Queen series
and Cynthia Hand's
Unearthly trilogy
(best love triangle ever—even if you hate love triangles).
I'm in that in-between space where all of my usual TV shows have gone on vacation and I spend 60 percent of my time explaining to The Man exactly why overpaid Hollywood actors shouldn't get months and months of vacation when none of us do. And then he puts on his noise-cancelling headphones and I have to feel the injustice alone.
Anyhow, I recently found this trailer for
Space Between Us
. It's about a teen who grew up on Mars and steals a rocket to fly to Earth for the first time. It looks a lot less crazy and a whole lot more adorable and heartbreaking than my description. And it's starring Asa Butterfield, who I absolutely adore. (I just saw him in
A Brilliant Young Mind
, and he did a fantastic job portraying a boy with autism.)
I've been revising
Gray Wolf Island
, so naturally I've been listening to the playlist on repeat. (You can see t
he entire playlist here
. One day when I befriend a web designer and exploit our friendship for a fancy website, I'll have the whole playlist on here.)
Here's one that will make more sense when** you read GWI. It's the song I imagine for two of my characters' first kiss. I'm pretty sure connecting this song to the scene makes me super cheesy (and not, like, Roquefort or something fancy; I'm talking neon orange "cheese") but WHO DOESN'T LIKE CHEESE?

I guess maybe the lactose intolerant? In any case, cheese is delicious and I'm keeping this as my first kiss song:
My first round of revisions for Gray Wolf Island are due back to my editor on July 1, which means 80 percent my brain is dedicated to my revision. In case you're curious, the other 20 percent is split like this:
15 percent: cute puppies on Instagram
5 percent: food
But the unexpected good news? I'm enjoying the revision process. A long time ago I thought I was a pantster who loved drafting and hated revising. Now drafting is a bit like bloodletting and revising is freeing.
If that makes no sense to you, just mutter "perfectionists" and give a disapproving shake of your head.
This round of revisions also reminded me that I had a breakthrough during my first round of revisions and never shared it with you. How greedy. So next week I'm blogging about the painless process that helped me cut words from GWI when it was just a young WIP.
Yep, painless. It's a trick-your-brain kind of trick.
All the 2017 books. I'm lucky enough to belong to the Swanky 17s, a fantastic group of YA and MG authors debuting in 2017. There's been a ton of cover reveals recently and some of them … you have to
check them out
for yourself.
You'd like my brand-spanking-new
Facebook page
. I'm cringing so hard while writing this. You can't see that because of the whole being on the other side of the internet thing, but it's true. I'll probably have wrinkles from it years later, and I will call them my cringing wrinkles, or crinkles for short.

In any case, if you like Facebook and you like liking things and you think you might like my page, then have at it.
I've been playing
this puppy video
on repeat. I can't tell you why I love it so much (I don't want to spoil the twist) but it has the power to restore even the most shriveled of hearts.
So, what's new with you this week?
*I forgot.
**If