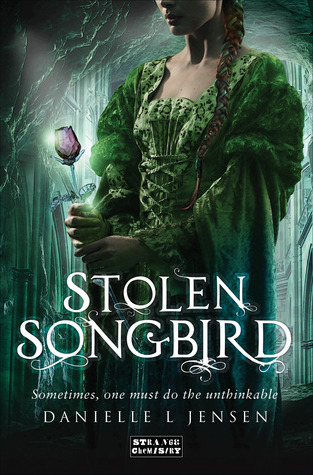 Stolen Songbird
by Danielle L. Jensen was the kind of book I kept coming across, getting really excited about, then putting down as soon as I realizes this was a romance. With a troll.
But it was getting really great reviews, and aside from the gross troll-love aspect it really did sound like a great story. And I'm so glad I stopped being shallow for the five seconds it took to buy the book. It put an end to my blatant prejudice against trolls.
Cecile is a great main character—strong and kind, brave, stubborn, and a natural leader. She's a bit like Belle from Beauty and the Beast in that she's willing to put her wishes aside to help others. Plus, she makes the most of being kidnapped and held against her will, using the experience not to whine or complain but make a difference.
The setting—an underground city—is wonderfully created and felt completely original. It's atmospheric, beautiful yet dangerous. It fits well with the plot, which is fast-paced and exciting.
And then there's the romance. I cannot believe I'm about to say this, but I was all for the troll-human romance between Cecile and the troll prince, Tristan. (It doesn't hurt that trolls aren't the giant, beastly creatures written about in stories.) Their romance was slow-building and believable, and I loved how falling for each other strengthened their individual characters. The story is told mostly from Cecile's POV, but chapters from Tristan's POV are interspersed, which totally worked.
The bottom line: Forget about gross troll-on-human lovefests. This is a well-done YA fantasy that has me antsy for the second book in the series.
Here's what the other Bookanistas are reviewing today:
What book have you recently loved?